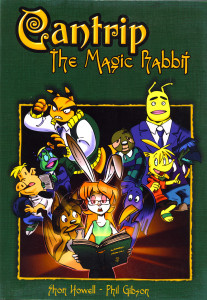 Cantrip the Magic Rabbit is now available for pre-order on Radio's comix eShop!
Cantrip the Magic Rabbit
By Shon Howell and Phil "Poinko" Gibson
Strange things are afoot in sleepy Templarsville, Oklahoma! The students at Julius Schwartz Memorial High are abuzz with rumors about new girl, Candice Tripp. They say there's something bizarre about her, possibly unnatural. But you know how those crazy high school rumors get started, just because a gal is found in an abandoned house with total amnesia doesn't mean she's a complete witch! Or does it?! Collecting all of this delightful anthropomorphic comedy webcomic in one handy volume, penned by the popular Furrlough duo of Shon Howell and Phil "Poinko" Gibson!